Beyond the Cable Car Trip (Lantau Island)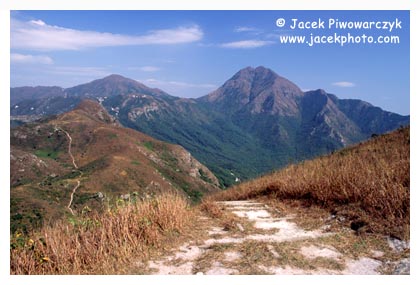 Lantau Island is undoubtedly one of the jewels of Hong Kong 's countryside. For decades, the island, famous for its sleepy fishing villages, isolated beaches, lush vegetation, Buddhist monasteries and picturesque hiking trails was only accessible by ferries and visited primarily by the most determined holiday makers trying to escape from the bustling urban environment.
The situation and its fate changed forever with the construction of the new Chek Lap Kok airport and Tsing Ma Bridge which connected the island with the rest of Hong Kong . The new, modern town of Tung Chung was erected in the vicinity of the airport, complete with a fleet of air-conditioned buses from almost every corner of Hong Kong . A subway provides easy and convenient access to the north of Lantau.
September last year saw the opening of Hong Kong Disneyland Resort, built on reclaimed land, which turned the once peaceful Penny's Bay into a crowded amusement park. Hong Kong Disneyland is a great tourist attraction for people of all ages and what it makes it unique on the world Disney map is the green hilly surroundings of Lantau. Perhaps some visitors will take note of this amazing nature feature and it will encourage them to visit other parts of the island. In my opinion, however, the 20 thousand or more visitors that Mickey attracts should not be counted as visitors to Lantau unless they go beyond the park.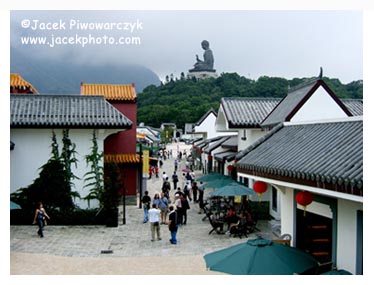 Finally the island's prime tourist attraction, the Po Lin Monastery and its 85-foot high bronze Tian Tan Buddha statue on the Ngong Ping Plateau has been recently connected by a cable car to Tung Chung. The new project called "Ngong Ping 360" includes an artificial Chinese style village complete with souvenir shops, restaurants, a theatre and a huge, still empty bus terminal. The construction of the complex inevitably changed the atmosphere of Ngong Ping but on the positive side it also opened Lantau for the masses and it has suddenly become one of the most desirable tourist attractions in Hong Kong . Yes, I wonder how the once peaceful and tranquil monastery famous for its vegetarian restaurant will cope with up to ten thousand visitors a day.
Thankfully, Lantau Island has much more to offer. Hopefully visitors' attention will not be only limited to Ngong Ping and the cable car trip. Perhaps at least some of them will do some hiking or at least combine it with a visit to nearby Tai O village.
In the series of articles that will follow I would like to highlight the most beautiful sights and trails of the island. The articles will be complimented by beautiful images taken during years of exploration. More pictures can be found in our image bank and the readers are encouraged to submit their work. Let's share the beauty of Lantau with the whole world!
Lantau Island or Tai Yue Shan as it is called in Cantonese, is first of all famous for its network of well maintained and well marked walking trails. Most of them lead through country parks which occupy over 50 % of the island's 142 km 2 area. The best known is the 70 km long Lantau Trail which is divided into 12 sections that can be easily combined or interconnected with other trails for longer hikes.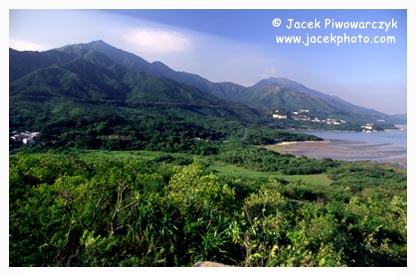 To walk the entire Lantau Trail in one go is quite challenging undertaking but different sections are suitable for people with different level of fitness. The most popular are two challenging sections scaling Lantau Peak and Sunset Peak - the two highest Lantau mountains. There are also some lovely less demanding stretches of coastline especially between Fan Lau and Shek Pik and between Shek Pik and Shui Hau which can be appreciated by all nature lovers. The latter section, in particular, is a relatively easy stroll suitable for families.
One of my personal favorites is an easy stroll along the expansive Cheung Sha Beach . After departing from the busy public beach areas, it is very likely you won't find a living soul, except perhaps for a few grazing cows.
Even a visit to Ngong Ping can easily be combined with some really nice walks. The most popular trail descends into the woodlands of Tung Chung valley giving an opportunity to visit the peaceful Tei Tong Tsai Monastery. Another interesting and very picturesque trail goes southwards, winding gently down across the steep slopes of Lantau Peak with incredibly stunning views of the Shek Pik Reservoir - your destination.
There are more stunning trails, many of them leading through rarely visited but exceptionally beautiful parts of the island like the Chi Ma Wan Peninsula Loop, South Lantau Trail and Tung Chung - Tai O Trail. (As the names could be quite confusing for readers not familiar with the island, please refer to the map available on the Lantau Post portal).
For those who like much closer encounters with nature, Lantau has a number of remote, beautifully located and well equipped campsites, ideal for weekend outings. Getting to some of them involve quite long walks but their location and seclusion from the outside world are rewarding. The most recommended are Man Cheung Po - about an hour walk from Tai O along Lantau Trail Stage Six, Kau Ling Chung off Fan Lau Walk from Shek Pik, as well as Shek Lam Chau and Tai Long Wan just off Lantau Trail Stage Nine between Shek Pik and Shui Hau. Camping is fun but please make sure that you leave the place tidy and bring all the rubbish back with you.
Lantau is also a haven for other sport or leisure activities. Mountain biking has become very popular over the past few years and four cycling trails have been developed in the southern part of the island. People who wish to use any of those trails need to apply for a special mountain biking permit.
A few years ago the sky over Cheung Sha and Pui O was full of colorful parachutes as paragliding from Sunset Peak was very popular.Recently interest in this kind of activity has declined despite excellent meteorological conditions prevailing on the southern slopes of Lantau mountains.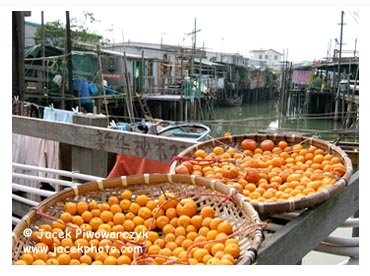 Last but not least, one should mention the cultural heritage of Lantau Island . The main focal point of interest is the over three century old fishing village of Tai O located in the northwest of the island. Tai O retains most of its historical charm and character such as its canals, stilt houses and fishing boats. Local villagers, aware of the tourist potential, set up a small heritage museum and inexpensive boat trips are organized to give visitors a new perspective of the village. The lucky ones may even enjoy a rare encounter with the Chinese White Dolphins inhabiting the waters off Tai O.
In brief, Lantau Island has an attractive and unique eco-tourist environment, so it is in everyone's interest to protect it. The island has great potential but we must ensure that it is done through sustainable eco-friendly development by encouraging public consultations when the Hong Kong government draws up its plans. Through such cooperative efforts, Lantau's unique beauty can be preserved for future generations.
The author is a geographer and a photographer living in Mui Wo, Lantau.
Lantau flash presentation : http://www.jacekphoto.com/hong_kong/lantau_flash.htm
This article has been published in on line Lantau Post Magazine in December 2006.
http://www.lantaupost.com/#http%3A%2F%2Fwww.lantaupost.com%2Fhome%2Fpost%2F941133%2Finset%2F364%40