Trekking around Annapurna
Marsyandi Valley
Trekking arond Annapurna - one of the most popular in Nepal starts in Dumre and follows one of the most beautiful Himalayan valleys - Marsyandi. With a little luck and good weather it can offer increadible mountain vistas, especially at sunset and sunrise. During my trip, for days, clouds or lower hills had obscured the highest mountains.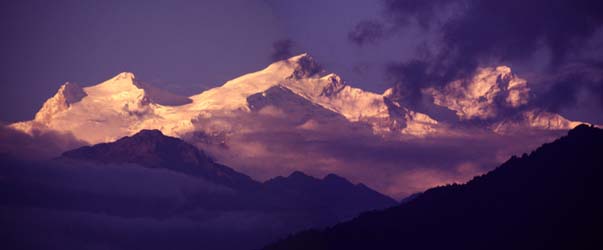 Peak 29 and Himalchuli from Marsyangdi Valley below Besi Sahar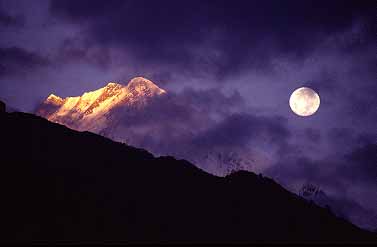 Apart from a brief opportunty during the bus journey to Besi Sahar (top), our first "real" encounter with them took place early in the morning in the small village of Bagarchap. Not far away in the distance we could admire the snow-covered ridge of Lamjung Himal (6986m ), illuminated by the light of the rising sun. A rounded shape of full moon was just over the ridge, a truly breathtaking view.
More pictures from Nepal
Nepal - Table of Contents
"Nepal Homalaya" - Flash Presentation



© Jacek Piwowarczyk, Nepal 1995