ANNAPURNA SANCTUARY TREK 2002
Annapurna Sanctuary Trek was the first trekking in the Himalayas which I undertook in 1985. Unfortunately, due to my studies, it took place in September when monsoon was in a full swing and we spent 11 days walking in the rain and mountains were almost constantly covered in thick clouds. Therefore I decided to repeat it in spring 2002. Again I was not so lucky in terms of the weather which was unusually unstable for this time of the year, there was almost no single day without rainfall, snowfall or hail, thunderstorms the most spectacular I have ever seen in my life and amount of snow left from winter substantial. Annapurna Sanctuary trek is the only major trekking route with avalanche danger and this year was exceptionally bad. An avalanche in early March near Deurali killed three Germans and a couple o locals and the Sanctuary was closed for several days until a detour and temporary bridges were reopened. Apart from Annapurna Sanctuary our route also covers so called TATOPANI LOOP trek which starts from Phedi near Pokhara and leads through Dhampus, Tolka, Landrung, Ghandrung, Tadapani, Ghorepani, Poon Hill, Tatopani and ends in Beni and in an excellent introduction to the Himalayas. Due to uncertain and unstable political situation in Nepal the trails were almost completely empty, lodges and teahouses empty and some, especially around areas of activity of Maoist guerillas (Sikha,Ghyara, Ratopani) even closed. Beni was fortified, patrolled by army and Police and curfew after 7:30 PM imposed. BAD NEWS FOR NEPAL.
I would like to dedicate this trip and all the pictures to a very good friend of mine and exellent trekking companion Stefan, who sadly and unregrettably passed away on 31 December 2004. Rest in peace my friend.
The trek starts in the small village of Phedi, easily accessible from Pokhara bus taxi or bus, from where steep stone staircase leads through the forest to a picturesque village of Barne - half way to Dhampus - the first large settlement along the trail.
We have intentionally stopped overnight in Pothana (1900m, *1915 m) to enjoy its famous view but this first encounter with the Himalayas (especially Machhapuchre) on this trek turned out to be hazy and somehow disappointed.
Annapurna South (7219 m) seen from Pothana in the early morning.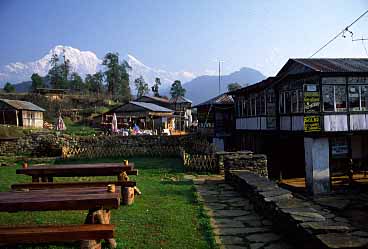 Pothana has some very good and friendly lodges.
More pictures from Nepal
Nepal - Table of Contents
"Nepal Homalaya" - Flash Presentation



© Jacek Piwowarczyk, Nepal 2002